As health workers, we stand in solidarity with Palestine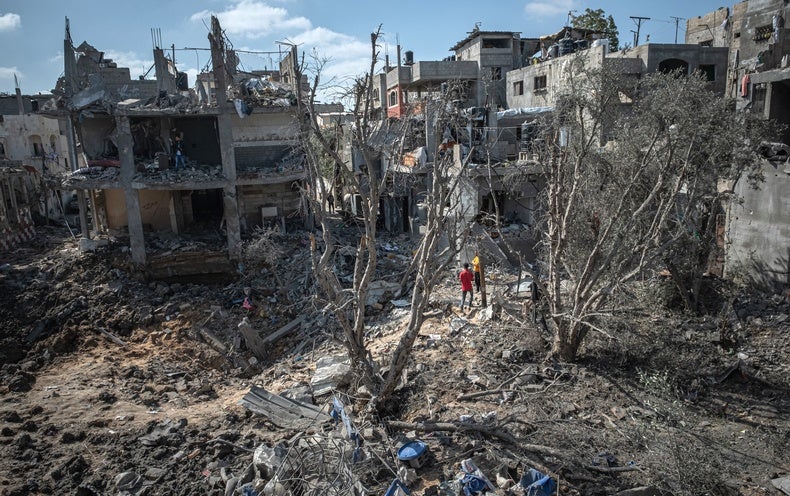 We are healthcare workers (HCWs) and teachers around the world who support the Palestinian people in their struggle for freedom and liberation. We have witnessed with horror the renewed, but still present, violence of the Israeli state against the Palestinians in Gaza, Jerusalem, the West Bank and Israel. As healthcare workers and educators, our primary allegiance is the well-being and sustenance of all human life. We were devastated by reports entire families in Gaza sleeping together to avoid the possibility of being killed separately, as terror from Israeli artillery rained down on Palestinian homes; families who lost entire homes (including children) when American-made bombs destroyed their homes; and health workers and their workplaces targeted for destruction. These violations of international law (under the Fourth Geneva Convention) are made possible through military and financial assistance provided by the US government.
In light of the illegal, immoral and targeted attacks on healthcare workers and infrastructure, we call on US healthcare systems and academic institutions, as well as our colleagues in the healthcare industry, to unequivocally condemn the oppression of long standing exercised by Israel on the Palestinian people and the decimation of their health care system. This violence does not end in a "ceasefire" as long as the devastating economic blockade of Gaza continues. We affirm that health is a universal human right, including for the Palestinian people, and that the time of silence is long past. Silence, from now on, is complicity.
At the time of this letter, we are aware of at least 257 Palestinian deaths at the hands of the Israeli army since May 10, 2021, including 70 children, compared to 12 Israeli deaths in total. While each of these deaths is a tragedy, the glaring disproportion should be unacceptable to everyone. It is impossible to explain all the morbidity and mortality caused by the structural violence of the Israeli occupation. For Palestinians living under the yoke of colonial rule by Israeli settlers, violence, human rights violations and poor the health effects they endure have been widespread for more than seven decades, since 1948, the year of Nakba, when the Palestinian people were initially dispossessed.
Despite its responsibilities as an occupier under the Fourth Geneva Convention, Israel continues to deny Palestinians essential care and resources, obstruct access, and actively bomb health infrastructure and roads. Nowhere is this abdication of responsibility more visible than in the medical and vaccine apartheid seen during the COVID-19 pandemic. While Israel is greeted by medical institutions and leading health experts as a successful model for mass vaccination of the Israeli population (over 60 percent of Israel is vaccinated), barely 5 percent of Palestinians in the Occupied Palestinian Territories are vaccinated, depending rather on rare donations of COVAX. This inequity is blatantly overlooked by those who tout the "success" of Israel's vaccine deployment. We refuse to ignore the truth that is in full view.
Those of us who work in health understand that health care does not exist in a vacuum. We understand more and more how structural forces, systematized and institutionalized oppression, racism, violence, disinvestment and displacement, as well as policies aimed at depriving people of their basic human rights, have adverse effects on health and mortality. We cannot continue to stand idly by and witness the violent erasure of an entire people by what is, as international human rights organizations have documented, an apartheid state, inflicting physical damage. and psychological unspeakable to the Palestinian people.
For this reason, we call on U.S. healthcare systems, academic institutions, and our healthcare colleagues to adopt the following set of requirements:
In our schools and places of education and training:
That faculty, staff, interns and students at our institutions be free to speak out about the crimes committed against Palestine and the Palestinian people without fear of reprisal, harassment or silence from anyone within their institutions and respective circles of influence (including funders). That we will hold accountable any person or institution that attempts to penalize a professor, staff member, intern or student for their advocacy on behalf of Palestine and its people.
May we stand in solidarity with our Palestinian colleagues in the United States and abroad, and commit to amplifying their stories, their voices and their quest for liberation. We understand that no one is free until we are all free.
That we ask our schools and places of education and training to provide support, in the form of mental health resources, safe spaces for discussion and mourning, and free time as needed for teachers, staff , Palestinian interns and students affected by the continuing occupation and the resulting trauma.
In our hospitals, clinics, offices and other health establishments:
That we adhere to the standards set forth by the Boycott, Divestment, Sanctions (BDS) movement and consider ways in which our institutions and facilities (as listed by the United Nations) can respond to the demands of this non-violent appeal by Palestinian civil society. This includes, but is not limited to, the termination of any partnership with Israeli institutions that coordinate with and benefit from the oppression of the State of Israel on the Palestinian people. That we call on our institutions in the global medical and scientific community to pressure their governments to end aid to Israel and unequivocally condemn Israel's crimes against Palestine and the Palestinian people.
That we call on the American medical and scientific communities to pressure their institutions and organizations to issue formal statements and actions that specifically address the suffering, social conditions and declining life expectancy of Palestinians resulting from decades of destructive forces. We specifically call on the following respected organizations to affirm and engage in the actions of this letter: AAMC, AMA, ACS, AAFP, AAP, ACP, APA, ACEP and others.
As individuals, as health workers committed to the liberation and sustenance of all peoples:
Let us assert that there is undeniable evidence that Israel has committed crimes against the Palestinian people. To integrate platforms and public health leaders continue to ask us to ignore the evidence and applaud Israel's windfall gains in public health. We refute the lionization of Israel as a COVID-19 vaccine distribution model as it actively practices vaccine apartheid and medical apartheid more broadly.
That we further call on the American medical and scientific communities to use their positions of power and privilege in local, state and federal arenas to pressure elected officials and senators to end financial support and diplomatic to the Israeli government and condemn Israel's atrocities and disproportionate deprivation of the human and legal rights of Palestinians to life, liberty and justice.
That we call on our elected officials to support an independent investigation into the war crimes committed by Israel against the Palestinian people. That we specifically call for an investigation to assess the health effects of these attacks, including (i) documenting the extent of damage to health systems, including people and infrastructure; (ii) the interference with medical and public health care suffered as a result of these attacks, including, but not limited to, mitigation of the COVID-19 pandemic; and (iii) the physical and psychological effects resulting from this most recent assault.
That we call on the United States and Israel to take responsibility for repairing and restoring the health care infrastructure decimated by the recent bombings and to commit to ending the military and structural violence directed against it. Palestinian people.
Finally, we recognize that the reason we remain silent on these matters is because of our own positions of privilege and relative security. We must honor the fundamental responsibilities conferred by our oath and our fundamental bioethical principles by demanding individually and collectively responsibility and the end of all forms of oppression on the part of the State of Israel, as well as of our own countries and institutions, to all the Palestinian people.
* One of the co-authors of this statement, a Palestinian healthcare worker and faculty member in the United States, has chosen to remain anonymous.
This is an opinion and analysis article.