Dr Wayne Johnson, Former Federal Head of Student Loans, Now in the United States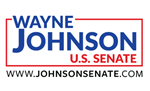 Macon, Georgia, August 12, 2020 (GLOBE NEWSWIRE) – via NEWMEDIAWIRE – In a letter delivered today to Senators Mitch McConnell, Chuck Schumer and all other members of the United States Senate, Dr. A. Wayne Johnson, candidate for the United States Senate in November Special election in Georgia to replace retired Senator Johnny Isakson, states the following:
TO WATCH THE FULL VIDEO, CLICK HERE: https://youtu.be/ucxnJi4Yfus
1. All student loan debt, federal and private, should be dischargeable in bankruptcy, without hardship conditions, but on condition that the debt is at least 10 years old.
2. All information regarding federal student loan debt, both direct federal and federal guarantees, should be deleted from each individual's credit bureau records. Unique student loan terms, unique loan repayment and deferral programs, and student loan management practices and errors have created inaccurate and unfair credit bureaus reports. This area of ​​student loan administration reform, which Dr. Johnson outlined in his letter to the Senate and which is often completely ignored by Congress, would have an immediate and profound positive effect on the ability of people to borrow money. money at reasonable rates, and even improve people's ability to find jobs. It is very absurd that even when people perform as agreed on their federal student loans as part of an income driven repayment plan, their credit report reports information interpreted as negative.
3. The requirements for making payments on federal student loan debt are expected to be suspended until December 31, 2021. People need time to plan their lives, and Congress needs time to implement federal reform financing of higher education. Meanwhile, collections on delinquent loans, garnishments and cash offsets would also be suspended. And a positive recognition of the monthly toll towards the forgiveness of civil service loans would be recognized.
4. Do not, at this time, under the current pending stimulus legislation, pass new legislation to write off federal student loan debt, except for the bankruptcy cancellation legislation described above. However, before December 31, 2021, Congress is expected to enact a law under which up to $ 1 trillion in federal student debt is canceled as part of a "grand compromise" that allows for debt cancellation. current federal student loan as well as the abolition of the current federal student loan. Program for a New Improved Federal Student Scholarship Program – An Opportunity Plus Plan for Higher Education.
5. That the way to pay for Federal Student Loan Debt Cancellation, as well as payment for a Go-Forward Opportunity Plus Scholarship Program, is to apply a 1% tax on everyone's income. corporations in America; for-profit and not-for-profit corporations, including colleges and their foundations. This tax would bring in more than 225 billion dollars a year in revenue; more than enough to fund post-secondary education programs AND provide funds to pay down the existing $ 1.6 trillion national debt associated with the current federal student loan program.
About Dr A. Wayne Johnson
Dr Johnson was a senior executive in the Trump administration, overseeing the $ 1.6 trillion national student loan program that affects 44 million Americans and their families, including 1.8 million Georgian citizens. During his tenure, he witnessed the devastating impact on life that unchecked student debt has on the very fabric of America. During his time working in the executive branch of government, he came to the conclusion that only changes in federal law would serve to correct the serious problems caused by the current federal student loan program. As a result, Dr Johnson has resigned his government post and is now seeking election to the United States Senate for Georgia so that he can lead the charge to make the necessary changes to the federal funding law. 'Higher Education. Johnson presented an Opportunity Plus plan for higher education which can be viewed on his website www.johnsonsenate.com. This plan would write off over $ 1,000 billion in student loan debt and provide every high school graduate with $ 50,000 to fund those graduates as they embark on vocational training or pursuing college. Dr Johnson holds a PhD in Higher Education Leadership and a Masters of Business Administration. He is also an accomplished and successful leader of the private sector. He considers his work in Washington to be very stimulating and professionally rewarding. Dr Johnson is not a politician and considers himself lucky to have been authorized to be an official of the Federal Government of the United States of America. He is a veteran of the US Army, an Eagle Scout and a product of the Georgian education system. He lives in Macon, Georgia.
Website: www.johnsonsenate.com. Twitter: www.twitter.com/johnsonsenate Facebook: www.facebook.com/johnsonsenate
Paid by Wayne Johnson for Wayne Johnson for Senate, Inc.
Davis lundy
423-240-5749
Bryant willis
770-639-1672