Volunteers share their experiences of working at the Linamar vaccination clinic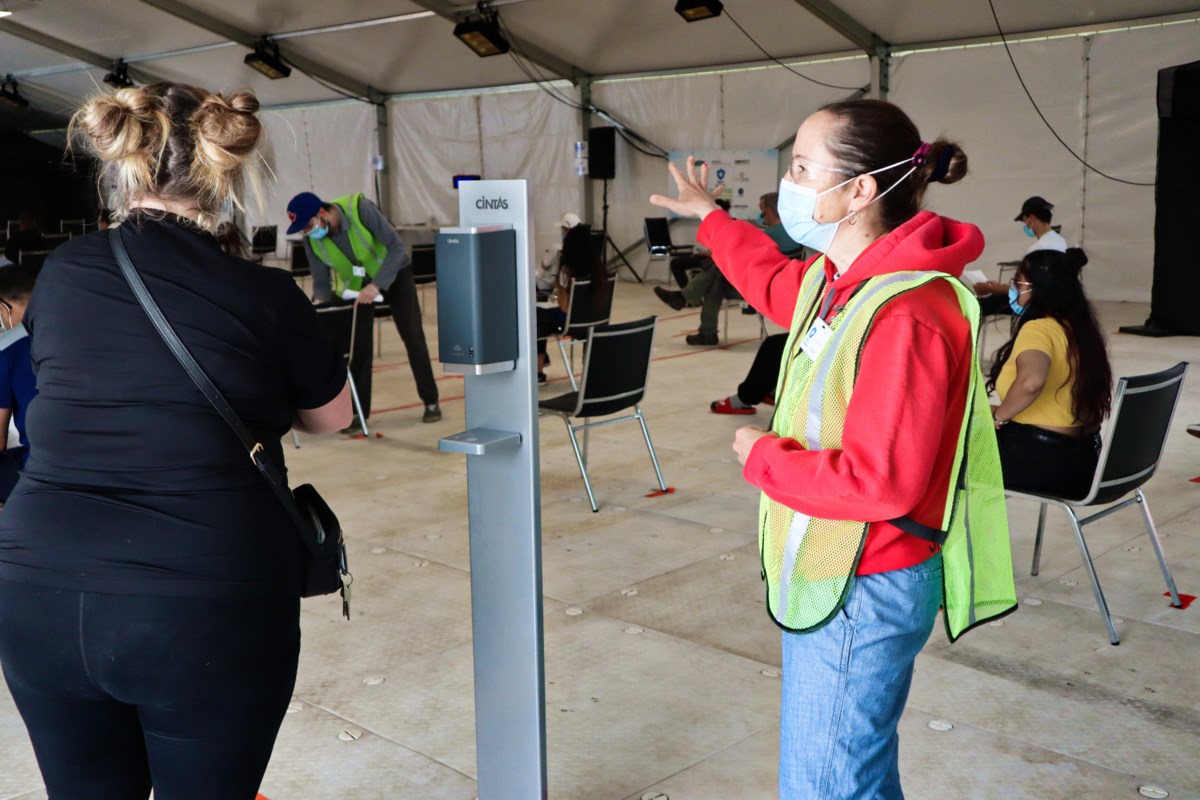 They might not be the first people you think of when you imagine heroes during this pandemic, but the people working at the Linamar Vaccination Clinic (Skyjack) are doing their best to help the community get vaccinated.
Clinic volunteers use their time to check in people, direct traffic lanes through different stations, administer vaccines to nurses, clean multiple surfaces and more.
"I'm happy to volunteer there and everyone is too," said Kent Fletcher, a volunteer who has been working at the clinic since March. "It's a great little team.
"I have yet to find a volunteer who has come for the wrong reasons here, they are all very eager to work."
The clinic rotates volunteers in three shifts throughout the day. Each shift lasts three hours, with some volunteers working double or triple shifts. Next week, the clinic will open an hour earlier to help distribute 1,000 vaccines. You can find more information about the clinic's opening hours here.
"Fortunately, we had a lot of support," said John Pham, clinic project manager at the clinic. "A lot of great people have come together to make this happen.
Since opening in mid-March, Pham said there were around 800 volunteers on the list through the People's Information Network, but not all of them had had a shift at the clinic yet.
"We try to spice up and sprinkle the new volunteers so that there is a pretty good mix of people who already have experience compared to the new volunteers," Pham said.
Fletcher said it is good to help new volunteers, especially when they will continue to help future new volunteers.
"I was waiting for an opportunity where I could help somewhere and there was really nothing," he said, "I kept looking online, but normal voluntary and charitable organizations had closed their doors. and when that came up I thought, finally I can give back to the community. "
Pham explains that volunteers play a non-clinical role within the clinic. The vaccinations are performed by nurses who work with Apex Health, the clinic's health partner.
"Together we can make this clinic work," said Pham.
Judy Baker-Campbell volunteers a few times a week while working from home. For her, it means a lot to be able to give her time.
"I don't really know what I was expecting, the first time I walked in I felt so nervous interacting with the audience because I work from home," said Baker-Campbell. "But right away, I felt so comforted by everyone. The precautions that are being taken …. go through the door, wear the mask, disinfect and all that PPE gear."
Fletcher said he was impressed with the efficiency of the clinic's volunteers, despite media portrayal of clinics with long queues. While volunteering, he remembers that no mistakes had happened at the clinic.
"I was pleasantly surprised to see how well organized this clinic was from day one," he said. "And she gets better and better… every little suggestion we make is put into place within a week.
Baker-Campbell was also impressed with the smooth running of the clinic. She cites Pham as one of the reasons why.
"He's the perfect guy for the job, well I guess I can say that about everyone," she said. "This is what creates the environment."
Pham explains that the clinic has experimented with different methods of administering vaccines and shares all of the clinic's content with other clinics across the province.
"We've shared this across Ontario so that other people can use our resources to start their own clinics," he said. "Pretty much everything we needed to set up this clinic that we freely shared. We're just trying to help the people here.
When it comes to interacting with the people who come to the clinic, Fletcher said they were quite happy and respectful.
"So many people are so happy to be here, to finally have the chance to get vaccinated and beat this thing," he said.
Baker-Campbell explains that interacting with other members of the community has also been a touching and moving experience.
"Almost every shift, I find myself in tears listening to stories about the isolation that people have experienced," Baker-Campbell said. "Separation from family and friends, and even just the nerves to go get the vaccine is an important decision for everyone and we trust it.
"To be a part of this moment to experience that feeling of relief, it's an amazing gift to be a part of it."